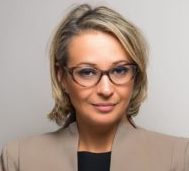 Teuta Oruci
 Founder at Cleantech360
Biography
Teuta Oruci (aka Bakalli) FCCA, a finance industry leader with over 20 years of experience the City of London in regulated financial markets including fintech, cleantech, asset management, insurance and investment banking.
Teuta was Chief Financial Officer at the payment processing giant Worldpay, eCommerce, and at Pepper Europe. Her work history includes roles at such luminaries as Schroders, Credit Suisse First Boston, and Barclays Capital, before she joined Willis as FD and acting COO. She was also FD of Vanguard Europe, part of the $5.6 trillion investment group.
Most recently Teuta has taken up residence in the digital economy hotspot of Malta where she founded Cleantech360, offering business strategy and thinktank for the cleantech industry. As part of her involvement in this sector, Teuta has worked with numerous renewables and sustainability projects.
Sessions
June 13 • 9:30 – 10:30