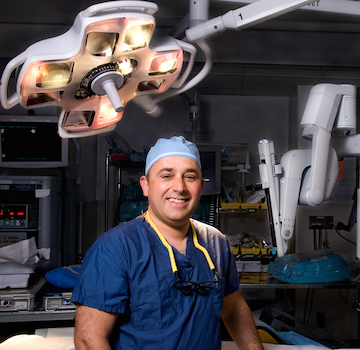 Biography
Dr. Alden has dedicated his life to the war on liver cancer and pancreatic cancer. The NYC liver cancer surgeon & pancreatic cancer surgeon has performed well over 5000 surgeries in the past 16 years. At the forefront of medical innovation, he is a liver and cancer specialist who treats the most complex cancers using only the most advanced surgical procedures, innovative and robotic technologies. Patients and medical professionals from America and around the world seek out his specialized services including his expert surgical management of the patient's unique condition.
Dr. Dmitri Alden completed extensive training in hepatobiliary surgery and liver transplantation. He studied in Paris at the HepatoBiliary Center (CHB) at the Paul Brousse Hospital. Dr. Alden trained under Professor Henri Bismuth, considered by many the "founding father" of current liver surgery. In addition, Dr. Alden also dedicated 5 years to research in liver cancer and liver transplantation. Dr. Alden has subspecialized training and extensive experience in Robotic and Laparoscopic surgery and is considered one of the top surgeon's using this contemporary method. Dr. Alden was born in Moscow, Russia. He completed his medical school education at the Pirogov Medical Institute, currently Moscow State Medical University, one of the most prestigious medical schools of the former USSR. After completing a surgical residency in Moscow, Russia he moved to France. There he obtained diplomas in advanced surgical studies at the University of Nantes and University of Paris, the latter dedicated exclusively to liver surgery.
After obtaining his clinical research experience at Mount Sinai Medical Center in New York, Dr. Alden completed a surgical residency at St. Vincent's Hospital in New York City, part of New York Medical College program.
Dr. Alden has been recognized as America's Top 100 Surgeons (Consumers Research Council of America) for his achievements.
Dr. Alden is Board Certified by the American Board of Surgery, and was granted a prestigious fellowship by the American College of Surgeons (FACS).
Dr. Alden has been recognized as best NY doctor by Castle Connolly for 5 years in a row. Dr. Alden was accepted as an honorary member to the French Academy of Surgery for his work on robotic liver and pancreatic surgery
Dr. Alden is a member of several international surgical organizations. The author of multiple publications on liver and pancreatic surgery, Dr. Alden is a frequent speaker at international forums on the subject of liver, pancreatic, and robotic surgery. Dr. Alden speaks fluent English, Russian, and French.